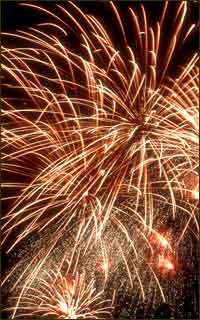 Regulations
---
Fireworks are tested against the British Standards Institute (BSI) BS7114:1988.
Part1 Classification of fireworks :- defining the fireworks and placing them within four categories.
Category 1: Indoor Fireworks - Suitable for use indoors.
Category 2: Garden Fireworks - suitable for outdoor use in relatively confined areas i.e. gardens. Minimum viewing distance 5m.
Category 3: Display Fireworks - suitable for outdoor use in large open space. Minimum viewing distance 25m.
Category 4: Fireworks which are incomplete and/or are not intended for sale to the general public. Often referred to as 'professional fireworks' No minimum viewing distance specified.
Part2 Specification :- dealing with construction, performance and labelling.
Part3 Methods of test :- Standardised tests to assure compliancy in a consistent manner.